Making Book Cloth
Description: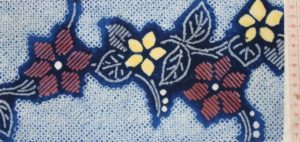 Japanese silk and other commercial book cloths can be beautiful, but have you ever seen a fabric you like and wished you could use it to make your own book cloth? This short class will teach students a quick and successful technique for backing their own fabric. Learn what to do and what not to do, which supplies will end in success and which will almost always guarantee failure. You'll go home with your own cloth and some sample cards to refer back to when you make more cloth on your own.
Level: This class is appropriate for students at all levels.
Date and Time: Wednesday, April 18, 6pm-9pm
Max. no of students: 6
Instructor: Julie Sullivan
Cost: $45 tuition + $5 materials fee
Note: Members receive a 10% discount off the price of tuition and materials. Please click here to join as a Member.
Julie Sullivan began taking bookbinding classes in 1993 as a creative counterpoint to a stressful corporate job. In 1997 Julie began an apprenticeship of sorts with Dallas, Texas, bookbinder Catherine Burkhard, assisting her with private client projects under her supervision. Julie continued weekly bookbinding study for many years and also improved her skills and learned new techniques through numerous workshops with experienced binders. She is a member of the Guild of Book Workers, past president of the GBW Lone Star Chapter and has attended numerous GBW Standards of Excellence seminars. Julie operates Dancing Cat Bindery from a home studio in South Austin where she repairs books and makes boxes for book dealers, collectors and private clients. In recent years Julie and her husband and illustrator Chet Phillips have collaborated to create limited edition books that Chet writes and illustrates and Julie binds.
♦ Gift Certificates are available. Click here for more information.
♦ Successfully completing a class at ABAC will qualify a student to use the Studio and equipment during Open Studio times, with certain restrictions. Please click here for rates and policies.
♦ Classes are listed in chronological order by start date. Space is limited. Pre-registration is required.
♦ Members receive a 10% discount on tuition and materials. Please click here to join as a Member. To receive the discount, please select the Member Rate on the drop-down, under Choose an Option. This is located on the registration page for each individual workshop.
♦ You can register for multiple classes by clicking the Add to Cart button. If you want to take the class with a friend, you can also register multiple people!
♦ Payments are processed securely through the PayPal website. You do not need a PayPal account, but may process your order as a guest.
♦ Tuition and all materials are covered by the cost of the class. Students will be notified in advance if the instructor requests that students bring simple tools. Nothing fancy or expensive will be required in addition.
♦ CANCELLATION POLICY: Students will receive a full refund or credit if cancelling a registration at least three business days before the first class meeting. Cancellations must be received in writing or by email at info@atxbookarts.org. If a student cancels less than three business days before the first class meeting, or drops out of a class in progress, full tuition and fees are forfeited. ABAC reserves the right to cancel a class due to under-enrollment. Registered students will be notified by phone and email 48 hours in advance if a cancellation due to under-enrollment should occur.
♦ Please contact us at info@atxbookarts.org if you encounter any problems or wish to provide feedback, suggestions for classes, instructors, or anything really.