Print Your Books at Home
Description: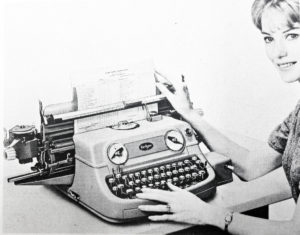 In this class, students will learn how to "impose" a text, using software (not a typewriter!). "Imposition" refers to the placing of pages on a sheet of paper so that the pages will be in proper sequence when the sheet is printed and folded. Computer-Aided Imposition simplifies the process printers use to arrange typeset pages, so when printed, a single sheet of paper folds into an 8 page signature that reads consecutively once bound.
During the first class meeting, students will learn about imposition and available software used to lay out and print their own manuscript or another text. The second class meeting will be spent sewing and binding the signatures into a book.
Level: This class is appropriate for students at all levels.
Dates: Wednesday, March 21 and Wednesday, March 28
Time: 6pm-9pm
Max. no of students: 6
Instructor: Jerome Collins
Cost: $90 tuition + $10 materials fee
Note: Members receive a 10% discount off the price of tuition and materials. Please click here to join as a Member.
Jerome Collins studied Liberal Arts at University of Texas, Pan American; Bay Street Studio, Maine; Skidmore College, NY; San Francisco Art Institute; Volkshochschule, Nürnberg, Germany and LSU, Baton Rouge. He first created a book in 1971 while working in medical illustration at Letterman Hospital, San Francisco. He has taught book arts classes at Flatbed Press and SMU.  He is past president of Austin Book Workers and has printed and bound books up to 300 pages.
♦ Gift Certificates are available. Click here for more information.
♦ Successfully completing a class at ABAC will qualify a student to use the Studio and equipment during Open Studio times, with certain restrictions. Please click here for rates and policies.
♦ Classes are listed in chronological order by start date. Space is limited. Pre-registration is required.
♦ Members receive a 10% discount on tuition and materials. Please click here to join as a Member. To receive the discount, please select the Member Rate on the drop-down, under Choose an Option. This is located on the registration page for each individual workshop.
♦ You can register for multiple classes by clicking the Add to Cart button. If you want to take the class with a friend, you can also register multiple people!
♦ Payments are processed securely through the PayPal website. You do not need a PayPal account, but may process your order as a guest.
♦ Tuition and all materials are covered by the cost of the class. Students will be notified in advance if the instructor requests that students bring simple tools. Nothing fancy or expensive will be required in addition.
♦ CANCELLATION POLICY: Students will receive a full refund or credit if cancelling a registration at least three business days before the first class meeting. Cancellations must be received in writing or by email at info@atxbookarts.org. If a student cancels less than three business days before the first class meeting, or drops out of a class in progress, full tuition and fees are forfeited. ABAC reserves the right to cancel a class due to under-enrollment. Registered students will be notified by phone and email 48 hours in advance if a cancellation due to under-enrollment should occur.
♦ Please contact us at info@atxbookarts.org if you encounter any problems or wish to provide feedback, suggestions for classes, instructors, or anything really.