Book Repair II
Description: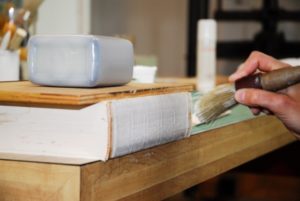 This workshop focuses on intermediate level book repair techniques.  Students must have completed Book Repair I and have basic binding experience.  The techniques taught will be how to fill a loss in paper; corner covering techniques; corner repair with new cloth or tissue, re-backing on the book; guarding signatures; attaching loose signatures; modified re-casing; and how to make a four-flap enclosure.
This workshop is the second of a three workshop series and is a pre-requisite for Book Repair III. The Book Repair series of workshops are designed for librarians, archivists, or private individuals who would like to know how best to repair damaged items in their collection.  Many techniques will be covered, but mastery will take time and practice.  Students are encouraged to rent studio space after taking the workshops to practice the techniques taught.
Pre-requisites: Book Repair I and Bookbinding I or prior bookbinding experience
Dates: Saturday & Sunday, April 29 & 30
Time: 9:30am-4pm
Max. no of students: 6
Instructor: April Smith
Cost: $180 tuition + $15 materials fee
Note: Members receive a 10% discount off the price of tuition and materials. Please click here to join as a Member.
April Smith received her Master of Library Science degree and Certificate of Advanced Study in the Conservation of Library and Archival Materials from UT Austin in 2002. As part of earning her degree she completed an internship at the Library of Congress in the Rare Book Conservation Lab. After graduation, she worked part-time at the Harry Ransom Center in paper conservation, and part-time as an adjunct professor at UT while starting Booksmith Conservation. April has taught a basic bookbinding class while working at UT and has taught book repair classes through Amigos Library Services and at the Southwest School of Art (San Antonio). She recently completed a course in fine binding at the American Academy of Bookbinding.
♦ Gift Certificates are available. Click here for more information.
♦ Successfully completing a class at ABAC will qualify a student to use the Studio and equipment during Open Studio times, with certain restrictions. Please click here for rates and policies.
♦ Classes are listed in chronological order by start date. Space is limited. Pre-registration is required.
♦ Members receive a 10% discount on tuition and materials. Please click here to join as a Member. To receive the discount, please select the Member Rate on the drop-down, under Choose an Option. This is located on the registration page for each individual workshop.
♦ You can register for multiple classes by clicking the Add to Cart button. If you want to take the class with a friend, you can also register multiple people!
♦ Payments are processed securely through the PayPal website. You do not need a PayPal account, but may process your order as a guest.
♦ Tuition and all materials are covered by the cost of the class. Students will be notified in advance if the instructor requests that students bring simple tools. Nothing fancy or expensive will be required in addition.
♦ CANCELLATION POLICY: Students will receive a full refund or credit if cancelling a registration at least three business days before the first class meeting. Cancellations must be received in writing or by email at info@atxbookarts.org. If a student cancels less than three business days before the first class meeting, or drops out of a class in progress, full tuition and fees are forfeited. ABAC reserves the right to cancel a class due to under-enrollment. Registered students will be notified by phone and email 48 hours in advance if a cancellation due to under-enrollment should occur.
♦ Please contact us at info@atxbookarts.org if you encounter any problems or wish to provide feedback, suggestions for classes, instructors, or anything really.