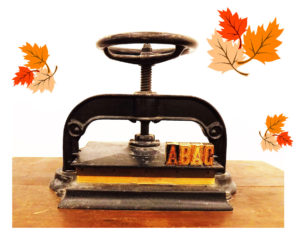 Saturday, October 1st, 10am-5pm.
Come by and see our new digs! ABAC has recently expanded our existing space. We now have a fully-equipped letterpress printshop, with 3 Vandercook proof presses and a 8×12 Chandler & Price platen jobber. This will significantly increase our capacity to offer classes and to fulfill our mission.
We are also excited to announce Open Studio times are scheduled for the first time this fall. Click here for more info.
We do hope to see you at the Open House for bookbinding and letterpress demonstrations. Learn about the fall schedule of workshops and letterpress print a bookmark!
Drop by anytime 10am-5pm. Admission is free.